This page is best viewed in Monobook.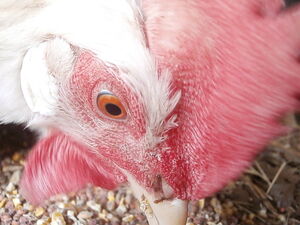 Other names
Chook, cock, rooster, hen, capon
Description
Similar species
Behaviour
Diet
Chickens may be considered omnivores. They mainly consume seeds (such as rice). They may also consume earthworms and become rumminant if necessary. Domesticated chicken usually consume specially made food which is composed of various seeds or agricultural remains from main grain processors. They have no trouble consuming food processed from fish remains.
Calls
Reproduction
Distribution/habitat
External links
Projects
| | |
| --- | --- |
| | This article is part of Project Aves, a All Birds project that aims to write comprehensive articles on each bird, including made-up species. |
| | |
| --- | --- |
| | This article is part of Project Galliformes, a All Birds project that aims to write comprehensive articles on each gallinaceous bird, including made-up species. |
| | |
| --- | --- |
| 100x100px | This article is part of Project Phasianidae, a All Birds project that aims to write comprehensive articles on each pheasant and ally, including made-up species. |
| | |
| --- | --- |
| | This article is part of Project Bird Subspecies, a All Birds project that aims to write comprehensive articles on each bird subfamily, including made-up families. |