Cooper's Hawk
Talk

0
10,626pages on
this wiki
---

This article contains info about an alternate universe!


This article contains info from an alternate universe. The info in this article may not apply to the real world.
---
Cooper's Hawk, Astur cooperii (as-TER COOP-er-ih-eye; species: in honour of William Cooper[2]) is a medium-sized hawk native to the North American continent and found from Southern Canada to Northern Mexico. It was once Critically Endangered and transported to Devonshire, where the populations have increased. It is now Least Concern.
As in many birds of prey, the male is smaller than the female. The birds found east of the Mississippi River tend to be larger on average than the birds found to the west.
This species is monotypic[3][4].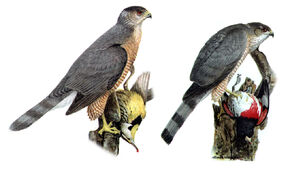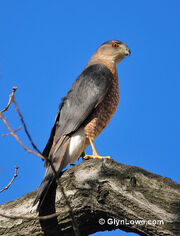 Other names
Edit
Big blue darter, chicken hawk, hen hawk, quail hawk, striker, swift hawk[2].
Synonyms: Accipiter cooperi.
Description
Edit
Medium-sized hawk. Females are separably larger than males. Legs are thick. Wingtips reach less than halfway down tail. Both sexes have a wide, white band on tail. Head appears square when hackles are raised but rounded when not raised[3].
Adult males have grey cheeks and napes. Dark crown contrasts with the paler nape[3].
Adult females have rufous cheeks sometimes with a grey cast, grey napes, and greyish upperparts that usually fade into brownish by spring and summer. Dark crown contrasted with paler nape, as in males[3].
Similar species
Edit
Main article: Appendix:Cooper's Hawk vs. Sharp-shinned Hawk
Best told apart from the Sharp-shinned Hawk by comparatively rounded tail, large head, white terminal tailband, and slower wingbeat[5]. Call is shriller than Cooper's[6].
Behaviour
Edit
When perched, it often raises its hackles, making its head appear larger and squarer. Soars in a dihedral, but glides with wing level. Glides with wrists forward, but head still projects far beyond wrists[3].
The preferred prey is birds, but many mammals are taken, and, in the West, lizards[3].
After catching prey, sometimes flies with prey to water in order to drown it; eats small mammals, flickers, woodpeckers, mourning doves, meadowlarks, robins, quail, blue jays, young pheasants; takes young songbirds out of nest[7]; occasionally eats fishes and ground squirrels; in a three-year study of food habits of twelve broods nesting near Ithaca, NY, Meng (1959) discovered that chipmunks and red squirrels made up 94% of mammals eaten; starling the most frequent bird eaten[8][2].
Midpitched, repeated, guttural, grating gakgakgakgak; also single gak[4]; suggests a flicker[6].
Reproduction
Edit
Does not tolerate smaller, similar, and competitive Sharp-shinned Hawk within the same woodlands. Nests in both pine and hardwood groves; in cottonwoods and sycamores along streams in West; on horizontal limb of pine, near trunk, in crotch of a hardwood; 10-60 ft. above ground, sometimes in an old nest of a crow; a platform of sticks and twigs lined with bark[2].
Baja California to Florida, Feb-June; rest of US and Canada, Apr-June; 3-6, usually 4-5, white to green-white, sometimes spotted with brown[2].
Incubation is mostly by female for 24 days; age when young fledge is unreported[2].
Distribution/habitat
Edit
From United States and Canada to Costa Rica[2]. Also found in parts of Devonshire and Shire[9]
References
Edit
External links
Edit
Projects
| | |
| --- | --- |
| | This article is part of Project Aves, a All Birds project that aims to write comprehensive articles on each bird, including made-up species. |
| | |
| --- | --- |
| | This article is part of Project Accipitriformes, a All Birds project that aims to write comprehensive articles on each diurnal raptor, including made-up species. |
| | |
| --- | --- |
| | This article is part of Project Accipitridae, a All Birds project that aims to write comprehensive articles on each accipitrid, including made-up species. |