Ad blocker interference detected!
Wikia is a free-to-use site that makes money from advertising. We have a modified experience for viewers using ad blockers

Wikia is not accessible if you've made further modifications. Remove the custom ad blocker rule(s) and the page will load as expected.
This article is incomplete and may require expansion or cleanup. Please help to improve the article, or discuss the issue on the talk page.
In List of Birds by Common Name, a total of 9,721 bird species are recognised, belonging to a total 204 families.
Non-Passerines
Tinamous
Ostriches
Rheas
Cassowaries and Emus
Kiwis
Gamebirds
Waterfowls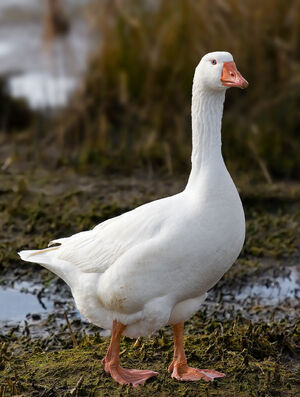 Penguins
Divers
Albatrosses and Petrels
Grebes
Flamingos
Storks and Herons
Pelicans and Relatives
Birds of Prey
Cranes and Relatives
Waders, Gulls, and Auks
Sandgrouses
Pigeons and Doves
Parrots
Cuckoos and Turacos
Owls
Nightjars and Frogmouths
Swifts and Hummingbirds
Mousebirds
Trogons
Kingfishers and Relatives
Woodpeckers and Toucans
Passerines
New Zealand Wrens
Broadbills
Asities
Pittas
Manakins
Cotingas
Tyrant Flycatchers
Antbirds
Gnateaters
Tapaculos
Antpittas and Antthrushes
Ovenbirds
Woodcreepers
Lyrebirds
Bowerbirds
Scrubbirds
Australasian Treecreepers
Australasian Wrens
Honeyeaters
Bristlebirds
Pardalotes
Thornbills and Gerygones
Australasian Babblers
Logrunners
Satinbirds
Berrypeckers
Wattled Crows
Whipbirds and Relatives
Quail-Thrushes
Wattle-Eyes and Batises
Helmetshrikes and Puffbacks
White-crested Helmetshrike
Boatbills
Vangas
Butcherbirds
Woodswallows
Ioras
Bristleheads
Cuckooshrikes
Sitellas
Shriketits
Whistlers
Shrikes
Vireos and Relatives
Orioles
Shrikethrushes and Relatives
Drongos
Fantails
Monarchs
Crows and Jays
Mudnesters
Birds-of-Paradise
Australasian Robins
Bald Crows
Waxwings and Relatives
Palmchat
True Tits
Penduline Tits
Bushtits
Swallows and Martins
Larks
Cisticolas
Bulbuls
Old World Warblers
Babblers and Relatives
White-Eyes
Fairy-Bluebirds
Goldcrests
Wrens
Gnatcatchers
Nuthatches
Treecreepers
Mockingbirds and Thrashers
Philippine Creepers
Starlings
Thrushes
Chats and Flycatchers
Dippers
Leafbirds
Flowerpeckers
Sunbirds
Sugarbirds
Old World Sparrows and Snowfinches
Weavers
Waxbills and Relatives
Whydahs
Wagtails and Pipits
Accentors
Finches and Relatives
New World Warblers
New World Blackbirds
Bananaquit
Bunting and American Sparrows
Tanagers
Cardinals and Grosbeaks
See also
Articles
Lists
References
Bird: The Definitive Visual Guide. by Peter Frances, David Burnie, National Audubon Society, BirdLife International. DK Publishing (2007). ISBN 075663153X
External links