Home
Talk

0
10,626pages on
this wiki
Welcome to All Birds!
We have 10,626 articles since February 5, 2011
the wiki about science that anyone can edit.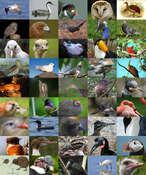 A bird is a feathered, winged, bipedal, warm-blooded, egg-laying vertebrate. As of February 14, 2013, there are 10,624 species of birds, not including many prehistoric species. Look around, you may see a bird outside your window!
Warning!


This wiki takes place in an alternate universe and may not reflect anything in real life. Read at your own risk! Many pages are under construction as well. Devonshire is 200 years ahead of the current year.
All Birds news

2/15/13: A new species of owl was found on the island of Lombok, Indonesia. It is called Rinjani Scops-Owl, Otus jolandae.

10,000 pages!!!

11/19/12: Please sign this petition! to end the showing of Rattlesnake Republic. Thank you.
10/30/12: Charadriiformes (cat.) is finally complete!
9/22/12: I completely forgot to mention that on September 18, we have over 9000 pages!
Over changes:

Paroidea (Paridae, Remizidae, and Stenostiridae) has been separated from Sylvioidea.
Four species are added to the Rhipiduridae (Fantails) based on Sánchez-González and Moyle (2011).

Pied Fantail, Rhipidura javanica is split into Malaysian Pied Fantail, Rhipidura javanica, and Philippine Pied Fantail, Rhipidura nigritorquis.
Blue Fantail, Rhipidura superciliaris, is split into Visayan Blue Fantail, Rhipidura samarensis, and Mindanao Blue Fantail, Rhipidura superciliaris.
Tablas Fantail, Rhipidura sauli, and Visayan Fantail, Rhipidura albiventris, are split from Blue-headed Fantail, Rhipidura cyaniceps.




Today is Thursday May 23, 2013


Date in Devonshire: May, Thursday 23, 2313

Featured bird




The

antbirds

are a large

family

,

Thamnophilidae

, of

passerine birds

found across subtropical and tropical Central and South America, from Mexico to Argentina. There are

more than 200 species

, known variously as antshrikes, antwrens, antvireos, fire-eyes, bare-eyes and bushbirds. They are related to the antthrushes and antpittas (family

Formicariidae

), the

tapaculos

, the

gnateaters

and the

ovenbirds

. Despite some species' common names, this family is not closely related to the

wrens

,

vireos

or

shrikes

.

Featured Devonshirian bird

Featured image

Common Grackle, Quiscalus quiscula
| | | |
| --- | --- | --- |
|     | This page or section is under construction. | |




Affiliates

You can view all of the flags here.